Saints from the Middle Ages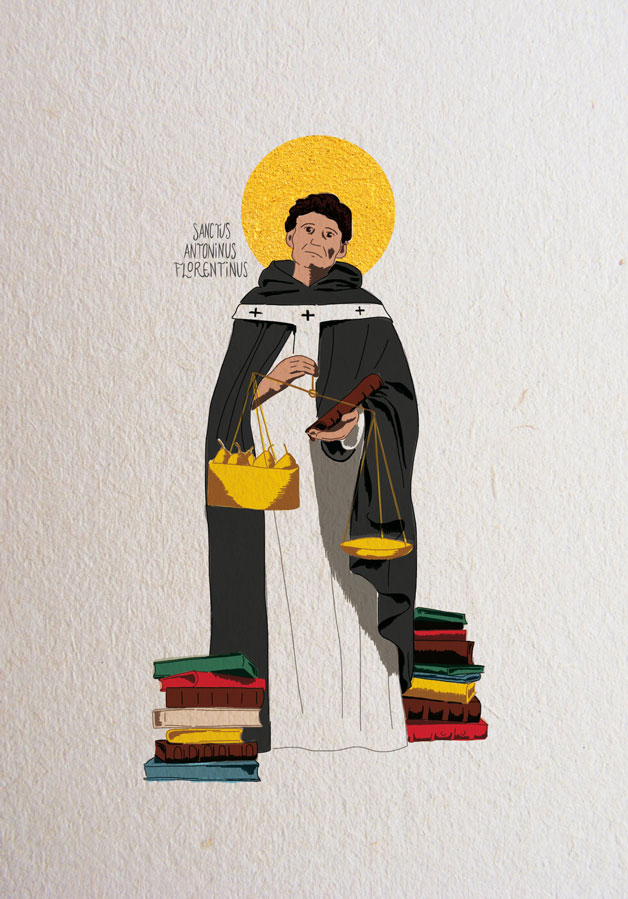 You can order these images here
• Antonino Pierozzi de Forciglioni, better known as Saint Antoninus of Florence, born in 1389 in Florence, Italian religious who entered the Dominican order in 1405, archbishop of Florence from 1446 until his death on May 2, 1459 in Montughi, is a representative of the Dominican reformist current known as "of the observance". He is venerated as a saint by the Catholic Church and celebrated on May 2 since 1969 (May 10 between 1683 and 1969).
• Fernando Martins de Bulhões, in religion Brother Antoine, born in 1195 in Lisbon and died on June 13, 1231 near Padua (Italy), is a Franciscan priest, master of spiritual doctrine, renowned preacher and miracle worker, who was canonized in 1232 , less than a year after his death, and declared doctor of the Church in 1946. Liturgically, he is commemorated on June 13 and venerated under the name of Saint Anthony of Padua.
• Benedict the African (San Fratello, 1526 – Palermo, April 4, 1589), monk, is beatified on May 15, 1743 by Benedict XIV and canonized by Pius VII on May 24, 1807. He is the celestial protector of the city of Palermo and the patron saint of blacks in North America.
• Brigitte Birgersdotter or Saint Brigitte of Sweden was born in 1303 in Sweden. Mother of eight children including Catherine of Sweden, she became a widow in 1344. After retiring to the monastery of Alvastra, she settled in Rome in 1349 where she devoted herself to pilgrimages, a life of intense apostolate and prayer. diligent. Renowned for her prophecies and mystical revelations, she is known for her political and religious positions, not hesitating to give her opinions both on the governance of the States and of the papacy who took refuge in Avignon. After a pilgrimage to Palestine, she died in Rome on July 23, 1373.
• Camille de Lellis, born May 25, 1550, in Bucchianico in Abruzzo (Italy) and died in Rome, July 14, 1614, is an Italian Catholic religious priest. After an incurable ulcer in the leg which made him meet the faith, he was a nurse in Rome. He is the founder of the Order of the Camillians (regular clerics of the infirm) and, as such, is for Catholics the protector – with John of God – of hospitals and the sick.
• Catherine Benincasa, in religion Catherine of Siena (in Italian Caterina da Siena), born March 25, 1347 in Siena, Tuscany, and died April 29, 1380 at age 33 in Rome, is a mystical Dominican tertiary, who exercised a great influence on the Catholic Church. She is declared a saint and doctor of the Church.
• Claire de Montefalco (1268-1308) is an Italian Augustinian nun. A century before her sister, Saint Rita de Cascia, she developed a spirituality of the Passion of Christ and lived a mystical experience of interior stigmatization. She was canonized in 1881 by Leo XIII. His memory is celebrated on August 17.
• Francis of Assisi, born Giovanni di Pietro Bernardone in Assisi (Italy) in 1181 or 11821 and died on October 3, 1226, is an Italian Catholic religious, deacon and founder of the Order of Friars Minor characterized by joy and poverty. , evangelization and the love of divine Creation. He was canonized in 1228 by Pope Gregory IX and commemorated on October 4 in the Catholic liturgical calendar. Francis of Assisi is considered to be the precursor of interreligious dialogue.
• Jean de Matha is a French religious, born June 23, 1160 in Faucon-de-Barcelonnette and died in Rome on December 17, 1213. He is the founder, with Saint Félix de Valois, of the Order of the Holy Trinity (called also Order of the Most Holy Trinity for the Redemption of Captives, or Trinitarians).
• Marguerite Manchini, called Sister Rita of Cascia commonly simplified in Rita, born in May 1381 in Roccaporena (Umbria, Italy) and died on May 22, 1457 in Cascia (Umbria, Italy), is an Italian nun of the Augustinian order. His incorrupt body remains in the Basilica of Santa Rita in Cascia. It is invoked for desperate causes.
• Saint Roch (born in Montpellier around 1350, died in Voghera around 1378), Sant Ròc in Occitan, is a French pilgrim and miracle worker, honored on August 16. He is the patron saint of pilgrims and of many brotherhoods or corporations: surgeons, dermatologists, apothecaries, street pavers, furriers, shovelers, second-hand goods, carders, and also the protector of animals. His cult, first born in France and Italy, has become very popular and has spread throughout the world.
• Thomas Aquinas, born January 28, 1225, died March 7, 1274, is a religious of the Dominican order, famous for his theological and philosophical work.