Saint (s) of the 19th and 20th century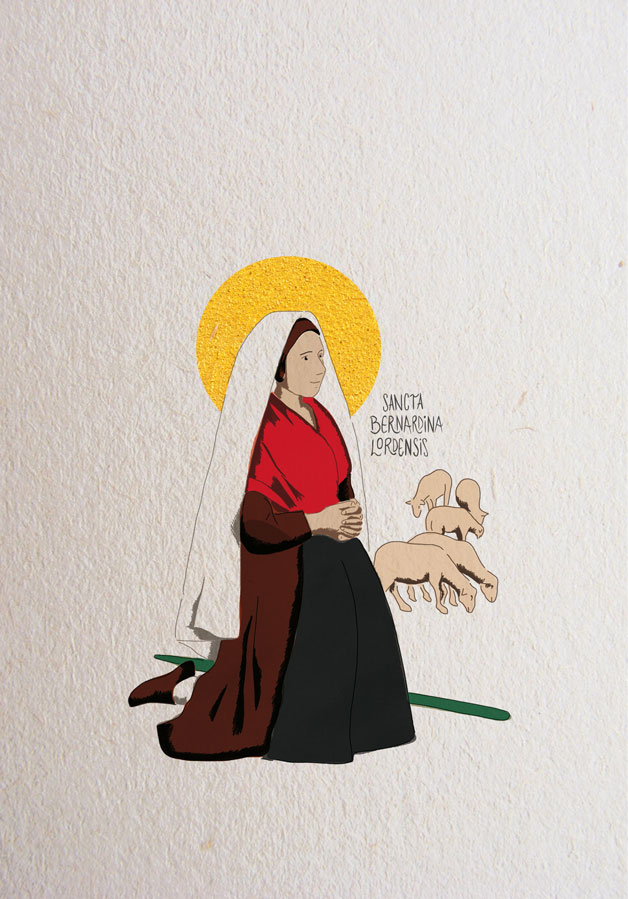 You can order these images here
• Marie-Bernarde Soubirous, better known as Saint Bernadette, born January 7, 1844 in the Hautes-Pyrénées department in Lourdes and died April 16, 1879 in the Nièvre department in Nevers, is a young French girl who claimed to be witness to eighteen Marian apparitions in the grotto of Massabielle between February 11 and July 16, 1858. Having become a nun, she was canonized in 1933.
• Saint John Bosco, or Don Bosco, born Giovanni Melchior Bosco on August 16, 1815 in Castelnuovo d'Asti (village of the principality of Piedmont then part of the Kingdom of Sardinia), and died on January 31, 1888 in Turin (Italy), is an Italian priest. He dedicated his life to the education of young children from underprivileged backgrounds and in 1859 founded the Society of Saint Francis de Sales, better known as the Congregation of the Salesians. The Roman Catholic Church declared him a saint in 1934, under the name of Saint John Bosco. He is the patron saint of publishers, apprentices and conjurers.
• Joséphine Bakhita, born in 1869 in Sudan, province of Darfur, in Olgossa, west of Nyala, near Mount Agilerei, in the Nubian tribe of Dadjo and died on February 8, 1947 in Schio in Italy, is a former slave became a Canossian nun and canonized in 2000 by Pope John Paul II.
• Laura Montoya, in religion Mother Laura of Saint Catherine of Siena, born May 26, 1874 in Jericó and died October 21, 1949 in Medellín, is a Colombian Catholic educator and nun who founded the Missionaries of Mary Immaculate and of Saint Catherine of Siena , for the education and evangelization of the Indian populations of the American continent. She is venerated as a saint by the Catholic Church, and is the first Colombian to be canonized.
• Maximilien Kolbe (Rajmund Kolbe in civil status), born January 8, 1894 in Zduńska Wola and died (assassinated) August 14, 1941 in Auschwitz, is a Polish Franciscan conventual brother, priest, founder of the Mission of the Immaculate .
• Marie-Françoise Thérèse Martin, in religion Sister Thérèse of the Child Jesus and the Holy Face, also known under the names Saint Thérèse of Lisieux, Saint Thérèse of the Child Jesus or even little Thérèse, is a French Carmelite nun born in Alençon in Orne in France on January 2, 1873 and died at the age of 24 in Lisieux in France on September 30, 1897.