Cinema and theater caractères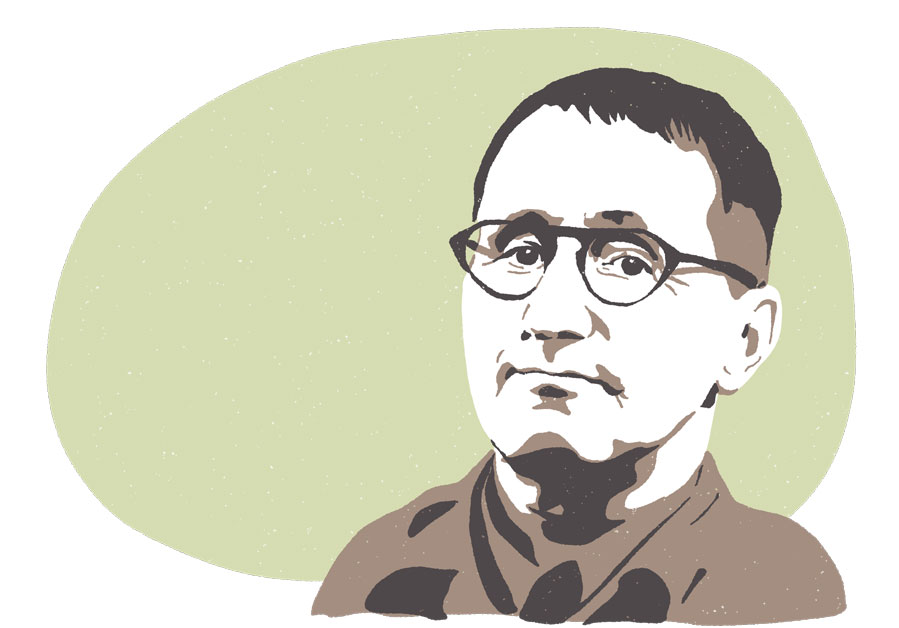 • Bertolt Brecht, born February 10, 1898 in Augsburg (Bavaria), in the suburb of Jakob known as "Jakobervorstadt" and died August 14, 1956 in East Berlin (GDR), is a German playwright, director, writer and poet.
• Maria Casarès, born María Victoria Casares Pérez on November 21, 1922 in La Coruña, Galicia (Spain), and died on November 22, 1996 in Alloue (France), is a Spanish cinema and theater actress, naturalized French. She is one of the great French tragedians.
• Jean Cocteau born July 5, 1889 in Maisons-Laffitte and died October 11, 1963 in Milly-la-Forêt is a French poet, painter, designer, playwright and filmmaker.
• Humor; the dark, the brutal, the absurd and sometimes benevolent humor, that of Pierre Desproges! Born May 9, 1939 in Pantin.
• Sergei Mikhailovich Eisenstein is a filmmaker and theorist of Soviet cinema born January 10, 1898 in Riga (government of Livonia, in the Russian Empire, now Latvia) and died February 11, 1948 in Moscow.
• Pierre Desproges, born May 9, 1939 in Pantin and died April 18, 1988 in Neuilly-sur-Seine, is a French humorist renowned for his dark humor, his nonconformism and his sense of the absurd.
• Fernandel, born May 8, 1903 in Marseille and died February 26, 1971 in Paris, is a French actor, humorist, singer and director.
• Jean Gabin is a French actor, born May 17, 1904. Mythical actor having played more than 95 characters on the screen, resistant, he is the face of a whole generation.
• Audrey Hepburn was born on May 4, 1929 in Ixelles (Belgium). Legendary actress, she is also a great figure of humanitarian commitment.
• Alfred Hitchcock is a British director, screenwriter and film producer born August 13, 1899 in Leytonstone (London) and died April 29, 1980 in Bel Air (Los Angeles).
• Christian Bouche-Villeneuve, known as Chris Marker (sometimes written Chris. Marker), born July 29, 1921 in Neuilly-sur-Seine and died July 29, 2012 in Paris, is a director, writer, illustrator, translator, photographer, publisher , French philosopher, essayist, critic, poet and producer.
• Georges Méliès (December 8, 1861 – January 21, 1938), was a French illusionist, actor and director who led many technical and narrative developments in the early days of cinema.
• Jeanne Moreau is a French actress, singer and director, born January 23, 1928 in Paris where she died on July 31, 2017.
• Marcel Pagnol is a French writer, playwright, filmmaker and producer, born February 28, 1895 in Aubagne (Bouches-du-Rhône) and died in Paris on April 18, 1974.
• Gérard Albert Philip, known as Gérard Philipe, born December 4, 1922 in Cannes and died November 25, 1959 in Paris, is a French actor. Active in the theater as in the cinema, he was in France, until his untimely death, one of the main stars of the post-war period. The public keeps of him a juvenile and romantic image, which makes him one of the icons of French cinema.
• Sidney Poitier is a Bahamian-American actor and director born February 20, 1927 in Miami and died January 6, 2022 in Los Angeles.
• Johannes Siegfried Richter aka Hans Richter, born April 6, 1888 in Berlin, Germany and died February 1, 1976 in Minusio in the district of Locarno in Switzerland, is a painter, sculptor and filmmaker of German origin, naturalized American in 1971.
• Edmond Rostand, born April 1, 1868 in Marseille and died December 2, 1918 in Paris, is a French writer, playwright, poet and essayist. He is the author of one of the most famous plays in French theater, Cyrano de Bergerac.
• William Shakespeare is an English playwright, poet and actor baptized April 26, 1564 in Stratford-upon-Avon and died April 23, 1616 in the same city. Nicknamed "the Bard of Avon", "the Immortal Bard" or simply "the Bard", he is considered one of the greatest poets and playwrights in the English language.
• Lino Ventura is an Italian actor, born July 14, 1919 in Parma (Italy) and died October 22, 1987 in Saint-Cloud (France). He has made most of his film career in France.
• Dziga Vertov, whose real name is David Abelevich Kaufman (Białystok, January 2, 1896 – Moscow, February 12, 1954), was an avant-garde Soviet filmmaker, first editor and editor of current affairs films, then director of documentary films and theorist. His manifesto "Kinoks-Révolution" (Ciné-Œil), published in the review LEF in June 1923, affirms his desire to found a cinema totally freed from literature and the theater, ruling out recourse to a script, showing thanks to the camera , "Mechanical eye", "life in itself", and forming "new men" reconciled with the machine. His "interval theory" allows us to establish temporal and spatial relationships between images. His best-known film, The Man with the Camera (1929), is intended to illustrate these theses.