Music Caractères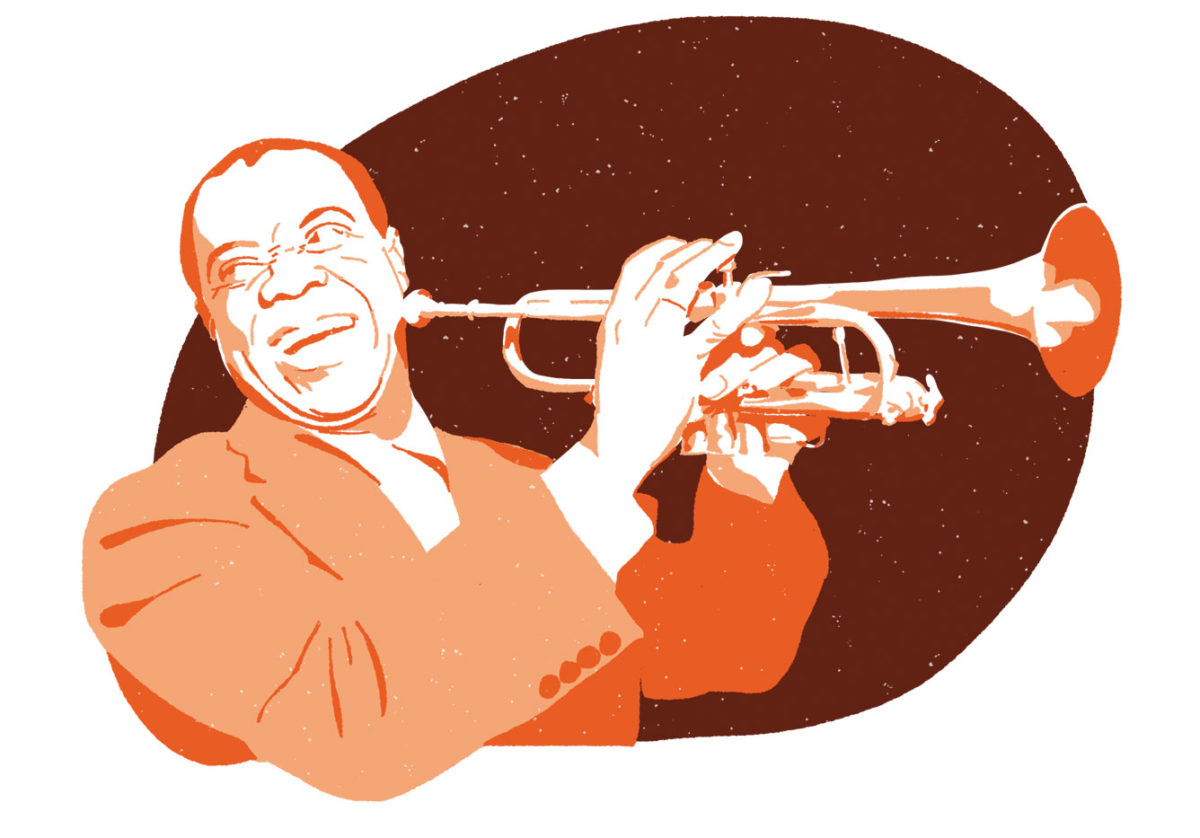 Des portraits que vous pouvez vous offrir ici !
• Louis Armstrong, born August 4, 1901 in New Orleans, Louisiana, and died July 6, 1971 in New York City, is an African-American jazz musician and singer.
• Charles Aznavour, born under the name Shahnourh Vaghinag Aznavourian on May 22, 1924 in Paris and died on October 1, 2018 in Mouriès (Bouches-du-Rhône), is a Franco-Armenian singer-songwriter, actor and writer.
• Johann Sebastian Bach (31 March 1685 – 28 July 1750) was a German composer and musician of the late Baroque period. 
• Barbara (or Barbara Brodi at her beginnings), born Monique Andrée Serf on June 9, 1930 in Paris 17th and died on November 24, 1997 in Neuilly-sur-Seine (Hauts-de-Seine), is a French singer-songwriter.
• Ludwig van Beethoven is a German composer and pianist born in Bonn on December 15 or 16, 1770 and died in Vienna on March 26, 1827.
• Georges Brassens, born in Sète (Hérault) on October 22, 1921 and died in Saint-Gély-du-Fesc (Hérault) on October 29, 1981, is a French singer-songwriter.
• David Robert Jones known as David Bowie is an English singer-songwriter and actor born January 8, 1947 in London and died January 10, 2016 in New York.
• Sophia Cecelia Kalos known as Maria Callas is a Greek singer born December 2, 1923 in New York and died September 16, 1977 in Paris.
• Ray Charles, born September 23, 1930 in Albany (Georgia) and died June 10, 2004 in Beverly Hills (California), is an American singer, songwriter, arranger and pianist.
• Leonard Cohen, born September 21, 1934 in Westmount (Quebec) and died November 7, 2016 in Los Angeles (California), is a Canadian singer-songwriter, musician, poet, novelist and painter.
• John William Coltrane is an American jazz saxophonist, composer and conductor, born in Hamlet, North Carolina on September 23, 1926 and died in Huntington, New York, on July 17, 1967.
• Miles Davis, born May 26, 1926 in Alton (Illinois) and died September 28, 1991 in Santa Monica (California), is an American jazz composer and trumpeter. The biggest, if you want my opinion …
• Sammy Davis Jr., his full name Samuel George Davis, Jr., born December 8, 1925 in the Harlem neighborhood of New York City, United States, and died May 16, 1990 in Beverly Hills, city of Los Angeles County, is a multi-talented American artist: dancer, singer, actor, impersonator, musician (vibraphone, trumpet and drums).
• Antonín Dvořák, born September 8, 1841 in Nelahozeves (Kingdom of Bohemia) and died May 1, 1904 in Prague, is a Bohemian composer. He is notably the author of the New World Symphony.
• Cesária Évora, born August 27, 1941 in Mindelo, Cape Verde and died December 17, 2011 in the same place, is a Cape Verdean morna coladeira singer.
• Jean Tenenbaum, known as Jean Ferrat, born December 26, 1930 in Vaucresson and died March 13, 2010 in Aubenas, is a French singer-songwriter. Author of text-based songs, he alternates during his career sentimental songs, poetic songs and engaged songs and often has to deal with censorship.
• Léo Ferré, born August 24, 1916 in Monaco and died July 14, 1993 in Castellina in Chianti (Tuscany, Italy), is a French and Monegasque singer-songwriter, pianist and poet.
• Ella Fitzgerald is an American jazz singer, born April 25, 1917 in Newport News, Virginia, United States.
• Juliette Gréco, born February 7, 1927 in Montpellier (Hérault) and died September 23, 2020 in Ramatuelle (Var), is a French singer and actress. An emblematic figure of French song with texts with a career spanning seven decades, she is particularly famous for having performed for authors such as Raymond Queneau, Jacques Prévert, Léo Ferré, Boris Vian and Serge Gainsbourg.
• Eleanora Harris Fagan known as Billie Holiday, nicknamed Lady Day, born in Philadelphia on April 7, 1915 and died in New York on July 17, 19591, is an American singer of blues and jazz, considered one of the greatest singers that the jazz has known.
• George Gershwin, is an American composer and conductor, born September 26, 1898 in Brooklyn (New York) and died July 11, 1937 in Los Angeles (California).
• Manitas de Plata (literally "little silver hands", corresponding to the French expression "fairy fingers"), whose real name is Ricardo Baliardo, born August 7, 1921 in Sète and died November 5, 2014 in Montpellier is a famous French guitarist of gypsy origin.
• Charles Mingus Jr. (April 22, 1922 – January 5, 1979) was an American jazz upright bassist, pianist, composer, bandleader, and author. A major proponent of collective improvisation, he is considered to be one of the greatest jazz musicians and composers in history.
• Freddie Mercury, stage name of Farrokh Bulsara, born September 5, 1946 in Stone Town in the Zanzibar Protectorate and died November 24, 1991 in London, is a British singer-songwriter and musician, co-founder in 1970 and singer- pianist of the rock band Queen.
• Thelonious Monk (October 10, 1917– February 17, 1982) is an American jazz pianist and composer famous for his improvisational style, as well as for having written many jazz standards.
• Georges Moustaki, born May 3, 1934 in Alexandria (Egypt) and died May 23, 2013 in Nice, is a French singer-songwriter of Italian-Greek origin.
• Claude Nougaro, born September 9, 1929 in Toulouse (France) and died March 4, 2004 in Paris, is a French singer-songwriter and poet.
• Giovanni Pierluigi da Palestrina, born in Palestrina (Papal States) near Rome, around 1525 and died on February 2, 1594 in Rome, is an Italian Renaissance composer.
• Édith Giovanna Gassion, known as Édith Piaf, born December 19, 1915 in Paris and died October 10, 1963 in Grasse, is a French singer, lyricist, composer and actress.
• Jean Reinhardt, better known as Django Reinhardt, is a French jazz guitarist born January 23, 1910 in Liberchies – today a section of the municipality of Pont-à-Celles – in the Charleroi region in Belgium and died May 16, 1953 in Samois-sur-Seine. His style of playing and composition was followed by followers, giving birth to a style of jazz in its own right, gypsy jazz.
• Eunice Kathleen Waymon, known as Nina Simone, born February 21, 1933 in Tryon (North Carolina, United States) and died April 21, 2003 in Carry-le-Rouet (Bouches-du-Rhône, France), is a pianist , American singer, songwriter and arranger. She was also a civil rights activist in the United States.
• Boris Vian, born March 10, 1920 in Ville-d'Avray (Seine-et-Oise, today Hauts-de-Seine) and died June 23, 1959 in Paris (7th arrondissement), is a writer, poet, French lyricist, singer, music critic, jazz musician (trumpeter) and artistic director. An engineer trained at the École Centrale, he also devoted himself to the activities of screenwriter, translator (American English), lecturer, actor and painter.
• Lester Willis Young, nicknamed the Prez (the President), born August 27, 1909 in Woodville, Mississippi and died March 15, 1959 in New York, is an African-American saxophonist, clarinetist and composer of jazz.